Vlastnosti
Najnovšia verzia! (2023.11)
Najvýkonnejší prenosný vaporizér
Pôsobivá výdrž batérie (90-120 min)
Jednoduché používanie
Čistá para tej najvyššej kvality
Štýlový a odolný
Presné nastavenie teploty (40-210°C)
Pre koho je Vaporizér Mighty určený?
Mighty je vynikajúca voľba pre tých, ktorí hľadajú vaporizér najvyššej kvality, ktorý zaručuje prémiové výsledky pri každom použití. Narába sa s ním úplne jednoducho a ponúka čistú, chutnú a hustú paru vďaka inovatívnej technológií dvojitého vyhrievania, ktorá dosiahne teplotu potrebnú na vaporizáciu už za dve minúty. Aj napriek tomu, že je príliš veľký na väčšinu vreciek môžete tento vaporizér jednoducho nosiť v batohu alebo kabelke, čo ho robí vhodným na používanie doma aj vonku.
Jeho jediná nevýhoda je cena, ktorá je vyššia ako u ostatných prenosných vaporizérov, ak si však ceníte kvalitu a výkon, rýchlo zistíte, prečo je cena za Mighty relatívne vysoká.
Úplná kontrola teploty
Na rozdiel od mnohých iných vaporizérov na trhu, ktoré ponúkajú iba prednastavené teploty vám Vaporizér Mighty dáva úplnú kontrolu. Umožňuje nastaviť akúkoľvek teplotu medzi 40°C a 210°C a vaporizéru trvá nahriatie iba niečo medzi 90 a 120 sekundami. Vďaka minimalistickým ovládacím tlačidlám plus a mínus na povrchu zariadenia je nastavovanie teploty úplne jednoduché – čo sa hodí hlavne začiatočníkom.
Pôsobivá výdrž batérie
Mighty je napájaný dvomi zabudovanými 3300 mAh lítiovými batériami a môže poskytnúť až 120 minút nepretržitej vaporizácie na jeden cyklus nabíjania. Keď je potrebné batérie nabiť, môžete vaporizér používať ďalej, nakoľko poskytuje elektrický adaptér možnosť funkcie zariadenia počas nabíjania (technológia "pass through).
Pre šetrenie batérie ak zariadenie zrovna nepoužívate má Mighty automatický časovač vypnutia, ktorý ho vypne po dvoch minútach bez aktivity. Vďaka tejto funkcií sa nebudete musieť obávať toho, že sa vám batéria vybije keď vás niečo vyruší alebo keď pri vapovaní zaspíte.
Kondukčné a konvekčné nahrievanie
Inovatívny systém nahrievania vaporizéra Mighty používa zároveň kondukciu aj konvekciu, čo zaručuje najlepšiu možnú kvalitu pary. Prakticky to znamená, že vaše bylinky, koncentráty alebo oleje sú zároveň nahrievané dvomi rôznymi spôsobmi, prostredníctvom kontaktu s horúcim povrchom (kondukcia) a pomocou nahriateho vzduchu, ktorý prúdi okolo a cez materiál (konvekcia).
Na začiatku každého posedenia je používaná hlavne konvekcia, ak však vaše posedenie pokračuje dlhšie, piecka sa nahreje a začne kondukčné nahrievanie. To znamená, že budete môcť vdychovať hustú a chutnú paru, bez ohľadu na to, ako silno si potiahnete.
Jednoduché použitie
Pôsobivý výkon vaporizéra Mighty z neho robí vynikajúcu voľbu pre skúsených nadšencov do vaporizácie, ak však prihliadneme na to, ako jednoducho sa používa, je vhodný aj pre začiatočníkov. S iba dvomi jednoduchými tlačidlami, predstavujúcimi šípky plus a mínus môžete rýchlo zmeniť teplotu podľa toho, aký materiál chcete vaporizovať. Vďaka praktickému LED displeju zase budete mať prehľad o presnej teplote a stave batérie, čo vám dá prehľad a možnosť plánovať a užívať si svoje posedenia.
Záruka
Všetky vaporizéry Vaporizér Mighty predávané MagicVaporizers, autorizovaným distribútorom produktov Storz & Bickel sú autentické a vzťahuje sa na nich 2-ročná záruka, obmedzená na bežné používanie.
-
Používateľský manuál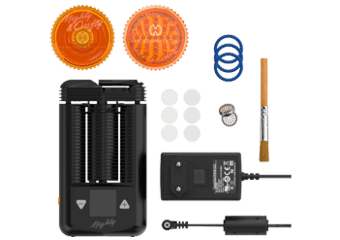 Obsah
Vaporizér Mighty
Elektrický adaptér
Normálne sieťky (malé) (3)
Hrubé sieťky (malé) (3)
Kefka na čistenie
Plastová drvička
Plnička
Krúžky tesnenia
Kapsule na dávkovanie
Návod na obsluhu
Podrobnosti
Viac informácií

| | |
| --- | --- |
| Rozmery: | 8.0 × 3.0 × 14.0 cm |
| Váha: | 230 g |
| Nahrievanie: | Hybridné (konvekcia + kondukcia) |
| Čas nahrievania: | 90 sekúnd |
| Zdroj energie: | Batéria (2 x 3300 mAh) |
| Teplota: | 40°C až 210°C |
| Výrobca: | Storz & Bickel |
| Záruka: | 2 roky |
| Krajina výroby: | Nemecko |
Napíšte vlastnú recenziu na Vaporizér Mighty