Vlastnosti
Najnovšia verzia! (2023.11)
Para z balónikov
Vyvinutá a spoľahlivá technológia
Vysoko výkonný systém vyhrievania
Presné nastavenie teploty
Kompatibilný s bylinkami, voskmi a olejmi
Vyrobený z vysokokvalitných materiálov
Pre koho je Volcano Classic určený?
Vaporizér Volcano Classic transformoval po jeho predstavení celú vaperskú scénu – a nie je ťažké si všimnúť prečo. Všetko na tomto vaporizéry je kvalitné a je vynikajúcou voľbou, ak vaše vapovanie beriete vážne a ste ochotní investovať do skutočne výnimočného, vysoko výkonného vaporizéra.
Narába sa s ním jednoducho a používa ikonický balónikový systém Volcano "Easy Valve", ktorý zaručuje, že neprídete ani o trochu z vašej kvalitnej pary. Tento vaporizér bol po celé dve dekády najpredávanejším stolným vaporizérom a je ľahké si domyslieť prečo. Existuje iba jeden lepší stacionárny vaporizér a to Volcano Hybrid, ktorý ale tiež znateľne viac stojí, preto ak hľadáte ten najlepší pomer ceny a výkonu za vaporizér Volcano, Classic je vynikajúcou voľbou.
Vysoká kvalita skrz naskrz
Volcano Classic bol vyvinutý a dodnes je vyrábaný v Nemecku z tých najkvalitnejších materiálov pre zaručenie toho, že bude produkovaná para vždy tej najvyššej kvality a že vaporizér samotný bude podávať kvalitné výkony rok za rokom. Reputácia, ktorú si za roky získal je jednoducho iba odrazom výnimočnej kvality, ktorú Volcano Classic ponúka, so spoľahlivosťou a dlhovekosťou, ktorú nedokáže prekonať žiadny iný vaporizér.
Unikátna technológia
Ak ste už niekedy vyskúšali vapovanie z balónikového systému, určite viete aké je to praktické a pohodlné, či už pri sólo jazde alebo skupinovom posedení. Bol to pritom práve Volcano Classic, ktorý prvý priniesol používanie balónikov na zadržiavanie pary. Používa sa jednoducho a je zároveň ideálny pre začiatočníkov aj skúsených vaperov, pretože po tom, čo sa naučíte ako narábať s týmto mechanizmom vám môžeme zaručiť, že dosiahnete perfektný zážitok z vapovania pri každom jednom použítí.
Hneď po tom, čo stlačíte tlačidlo pre zapnutie ventilátora začne do vášho balónika z plniacej komory prúdiť chutná para z vybraných byliniek, vosku alebo oleja. Všetka para vyprodukovaná počas používania sa nazbiera do balónika a po tom, čo balónik odpojíte ju môžete jednoducho inhalovať – bez toho, aby ste stratili čo i len kúsok pary.
Para môže byť uložená v balóniku až pôsobivých 8 hodín, čo znamená, že môžete inhalovať podľa vlastného uváženia – toto vám umožňuje si užívať paru vysokej kvality a vynikajúcej chuti nezávisle od toho, kedy ste začali posedenie.
Jednoduché ovládanie teploty
Rozpoznateľný tradičný dizajn vaporizéra Volcano Classic zahŕňa napríklad analógové ovládanie namiesto digitálne. Pre nastavenie teploty slúži centrálny regulátor, ktorý ponúka 9 stupňov teploty – každý z ktorých odpovedá špecifickému nastaveniu, perfektnému pre tých, ktorý preferujú počas svojich sedení jednoduchosť. Rozhodnite sa, aká teplota je najvhodnejšia pre vaše bylinky medzi 130°C and 230°C a v návode na obsluhu Volcano Classic si nájdite, ktoré číslo s touto teplotou korešponduje. Nastavenie teploty je veľmi jednoduché a dá sa vybaviť za pár sekúnd, pretože tlačidlá nastavenia teploty na tomto vaporizéry boli navrhnuté pre maximálne pohodlie.
Konzistentná a spoľahlivá teplota
Aj napriek tomu, že plné nahriatie Volcano Classic trvá 3 minúty, definitívne to stojí za počkanie. Po tom, čo je dosiahnutá nastavená teplota sa rozsvieti kontrolka, signalizujúca, že je zariadenie pripravené na začatie produkovania pary. Následne je teplota udržiavaná na rovnakej úrovni po celú dobu trvania používania, čo zaručí, že sa nikdy nebudete musieť obávať náhleho poklesu teploty vo vaporizéry, vyžadujúce ďalšie čakanie na opätovné nahriatie.
Záruka
Všetky vaporizéry Volcano Classic predávané MagicVaporizers, autorizovaným distribútorom produktov Storz & Bickel sú autentické a vzťahuje sa na nich 3-ročná záruka, obmedzená na bežné používanie.
Používateľský manuál
Obsah
Vaporizér Volcano Classic
Plniaca komora
Sada balónov (Easy Valve)
Sada normálnych sitiek
Sada vzduchových filtrov
Kefka na čistenie
Plastová drvička
Návod na obsluhu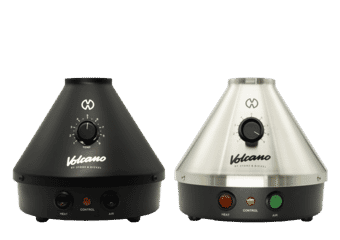 Podrobnosti
Viac informácií

| | |
| --- | --- |
| Rozmery: | 20.3 × 20.3 × 17.8 cm |
| Váha: | 1200 g |
| Nahrievanie: | Konvekcia |
| Čas nahrievania: | 3 minúty |
| Zdroj energie: | Elektrická zástrčka |
| Teplota: | 130°C až 230°C |
| Výrobca: | Storz & Bickel |
| Záruka: | 3 roky |
| Krajina výroby: | Nemecko |
Napíšte vlastnú recenziu na Volcano Classic