Vlastnosti
Najnovšia verzia (2023.11)
Vyrobený z titánu s viečkom z nehrdzavejúcej ocele
Vzájomne navzájom vymeniteľné súčiastky
Manuálne nahrievanie
Nastaviteľný prietok vzduchu
Vynikajúca kompatibilita s vodnými prvkami
Jednoduché čistenie
Extrémne odoľná konštrukcia
Pre koho je DynaVap VonG (i) Titanium určený?
Ak už máte skúsenosti s manuálne nahrievanými vaporizérmi a túžite po upgrade, alebo ak jednoducho chcete začať s jedným z najlepších, VonG (i) je pre vás ako stvorený. Dá sa jednoducho rozložiť a jeho vynikajúca kompatibilita s inými produktmi z ponuky DynaVap ponúka možnosť prispôsobenia na mieru tak, aby výsledok odrážal vašu osobnosť a preferencie.
Vďaka špeciálne tvarovanému náustku k nemu môžete jednoducho pripojiť vodné prvky (ak je to vaša parketka), používať ho bez nich je ale stále vynikajúci zážitok. Vo všeobecnosti je VonG (i) veľmi odoľný vapík, ktorý sa zároveň jednoducho používa aj čistí.
Manuálne nahrievanie
Nakoľko je VonG (i) nahrievaný manuálne, poskytuje vám plnú kontrolu nad procesom nahrievania a nemusíte sa spoliehať na batérie. Najbežnejším spôsobom nahrievania je buď tryskovým zapaľovačom alebo indukčným nahrievačom. Tieto metódy nahrievania sú veľmi rýchle, čo znamená, že zariadenie väčšinou zvládnete nahriať za menej ako desať sekúnd, a ak ste zrovna uprostred posedenia, aj za menej.
Nemusíte sa báť ani o správne načasovanie, viečko totiž počuteľne klikne po tom, čo zariadenie dosiahne teplotu dostatočnú na vapovanie. Následne si už môžete vybrať, či ešte chcete nahrievať o trošku dlhšie alebo si už konečne začnete užívať chutnú paru. Kliknutie indikuje výlučne dosiahnutie vhodného teplotného rozsahu (na rozdiel od nastavenej teploty) a bude odlišné v závislosti od techniky.
Pripravený na microdosing
S modelom VonG (i) sa môžete rozhodnúť medzi dvomi odlišnými veľkosťami komory, v závislosti od toho, koľko byliniek si prajete vaporizovať. V základnej polohe sa do komory zmestí 0,1 gramu a v polohe určenej na microdosing je miesto až na 0,05 gramu byliniek.
Táto inovatívna titánová miska je prekvapivo efektívna, aj pri malom množstve byliniek. Nakoľko sa dá znovu naložiť veľmi rýchlo, poskytne vám aj možnosť užívať si dlhšie posedenia, ak to je to, po čom zrovna túžite.
VonG (i) je tak isto vynikajúci na vaporizáciu koncentrátov, pretože zvládne dosiahnuť o dosť vyššie teploty a dá sa aj jednoducho rozobrať na vyčistenie. Na vapovanie koncentrátov sa však odporúča dokúpiť k vaporizéru doplnk DynaCoil, ktorý vám poskytne platformu, na ktorú môžete vaše koncentráty umiestniť, namiesto toho, aby ste ich vkladali priamo do misky.
Ako sa VonG (i) používa?
Odstráňte viečko.
Vložte do misky bylinky.
Viečko nasaďte späť na vaporizér.
Nahrejte viečko a zároveň ním krúťte, až kým nezaznie kliknutie.
Užívajte si paru buď priamo z náustku alebo cez vodný prvok.
Kontrola nad prietokom vzduchu
Vďaka vzduchovému portu umiestnenému v strede "sleevu" môžete prietok vzduchu nastavovať aj počas používania. Buď "sleeve" otočte alebo použite prst a zakryte port podľa osobných preferencií – hneď pocítite zmenu v teplote a hustote pary. Nechajte port otvorený pre chladnejšie a chutnejšie hity alebo ho zakryte pre potentnejšiu a hustejšiu paru.
Vylepšená kompatibilita s vodnými prvkami
Jednou z hlavných výhod VonG (i) v porovnaní s inými vaporizérmi DynaVap je jeho kompatibilita s vodnými prvkami. Kvôli špeciálne tvarovanému titánovému náustku je kompatibilný s 10 mm aj 14 mm samičími prípojkami. Je k nemu teda jednoduché pripojiť akékoľvek vodné prvky a matný finiš titánu minimalizuje riziko poškrabania sklenených častí.
S vodnou filtráciou môžete produkovať ešte väčšie množstvá pary. Okrem toho tento proces schladí a zvlhčí paru pre ľahšiu inhaláciu a pohodlnejší zážitok.
DynaVap VonG (i) vs DynaVap VonG
Aj napriek tomu, že je ich veľkosť v podstate identická, medzi VonG (i) a pôvodným VonG sa dajú nájsť určité rozdiely:
Okrem viečka z nehrdzavejúcej ocele je VonG (i) vyrobený z titánu pre lepší výkon a odoľnosť.
Pri VonG (i) môžete vymeniť "sleeve" za iné, ktoré majú odlišný vzhľad a funkcionalitu. "Sleeve" samotný sa taktiež točí o niečo jemnejšie, bez akéhokoľvek trenia kovu o kov.
VonG (i) sa jednoduchšie čistí a môže byť celý namočený do izopropyl alkoholu, kým pôvodný VonG s dreveným "sleevom" bolo nemožné namočiť vcelku.
Koruna VonG (i) bola redizajnovaná pre lepšie uchopenie.
Kozmetické zmeny ako napríklad symbol V na špičky a odlišný dizajn "sleeves".
Záruka
Všetky vaporizéry DynaVap VonG (i) predávané MagicVaporizers, autorizovaným distribútorom produktov značky DynaVap sú plne autentické a vzťahuje sa na ne 2-ročná záruka, obmedzená na bežné používanie.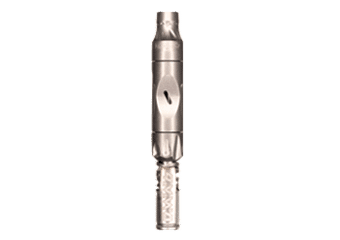 Obsah
Vaporizér DynaVap VonG (i): Titanium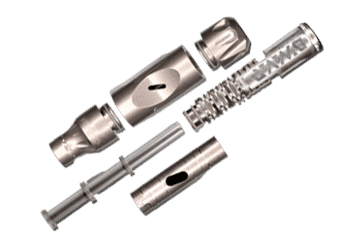 Podrobnosti
Viac informácií

| | |
| --- | --- |
| Rozmery: | 1.4 × 1.4 × 9.1 cm |
| Váha: | 19 g |
| Nahrievanie: | Hybridné (konvekčné + kondukčné) |
| Čas nahrievania: | Menej ako 10 sekúnd |
| Zdroj energie: | Tryskový zapaľovač alebo indukcia |
| Teplota: | 150°C až 230°C |
| Výrobca: | DynaVap |
| Záruka: | 2 roky |
| Krajina výroby: | Spojené štáty americké |
DynaVap M

Manuálne nahrievanie
Malý a diskrétny
Vyrobený v USA

DynaVap M+ (Plus)

Manuálne nahrievanie
Dizajn bez plutvičiek pre vylepšený výkon
Pripravený na microdosing s nastaviteľnou veľkosťou piecky

DynaVap Omni

Manuálne nahrievanie
Nastaviteľná miska a prietok vzduchu
Vyrobené z titánu
Napíšte vlastnú recenziu na DynaVap VonG (i): Titanium